[ad_1]

A few notable foreign companies are expecting stellar growth and may have some investors pondering increased diversification in the portfolio.
In this regard, here are two stocks sporting a Zacks Rank #1 (Strong Buy) that are set for continued expansion in their respective countries and region.
MercadoLibre (MELI)  
Renowned for being one of the largest e-commerce platforms in Latin America, Argentina-based MercadoLibre has an "A" Zacks Style Scores grade for Growth in addition to its Zacks Rank #1 (Strong Buy).
MercadoLibre has a multi-national reach that is unique among global e-commerce players including Amazon (AMZN) and Alibaba (BABA). And like Amazon and Alibaba, MercadoLibre's earnings potential has continued to intrigue investors. 
Continued expansion is expected with MercadoLibre being an e-commerce market leader in Brazil, Argentina, Columbia, Chile, Ecuador, Costa Rica, Peru, Mexico, and Uruguay.
To that point, MercardoLibre's earnings are expected to soar 75% this year at $16.68 per share compared to EPS of $9.53 in 2022. Better still, earnings are expected to climb another 55% in FY24 at $25.81 per share. Earnings estimate revisions have continued to trend higher over the last two months. 
Image Source: Zacks Investment Research
On the top line, sales are forecasted to jump 27% in fiscal 2023 and rise another 22% in FY24 to $16.46 billion. Furthermore, FY24 projections would represent an extremely impressive 618% growth from pre-pandemic levels with 2019 sales at $2.29 billion.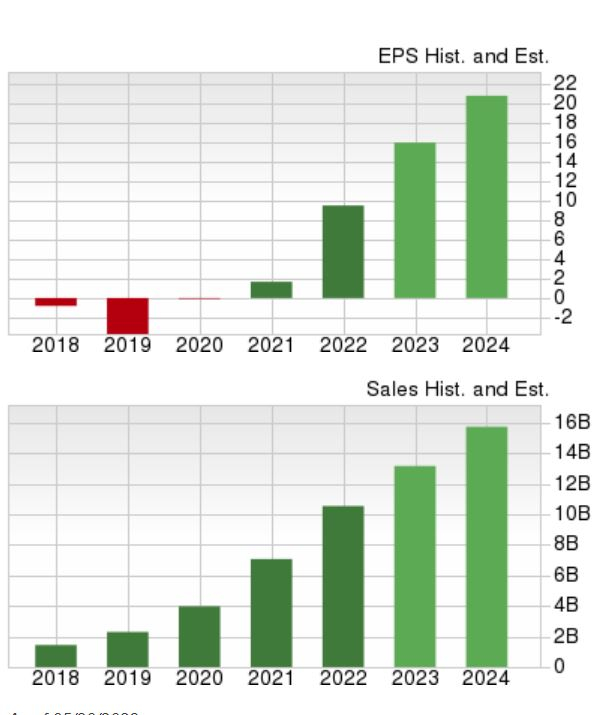 Image Source: Zacks Investment Research
Li Auto (LI)
Among foreign automakers, Li Auto is standing out at the moment and the company's growth should be accelerated upon China's reopening earlier in the year.
Along with being one of the most populous nations, China is widely considered the world's strongest country in terms of purchasing power making Li Auto's stock very attractive again. Appealing to China's middle to upper class, Li Auto produces premium electric SUVs.
Notably, earnings are projected to soar to $0.25 per share this year compared to EPS of $0.01 in 2022. Reconfirming Li Auto's growth trajectory, fiscal 2024 earnings are expected to leap to $3.58 per share. It is also noteworthy that annual earnings estimate revisions are largely up over the last 60 days.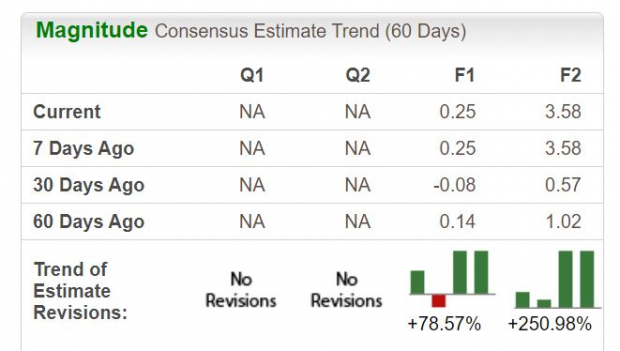 Image Source: Zacks Investment Research
Total sales are forecasted to expand 131% in FY23 to $15.44 billion compared to $6.68 billion in 2022. Even better, FY24 sales are anticipated to climb another 49% to $23.08 billion. Fiscal 2024 projections would be a mind-boggling 5,395% increase from pre-pandemic sales of $42 million in 2019.


Image Source: Zacks Investment Research
Bottom Line
The rapid and accelerated growth of these foreign companies has been astonishing since the pandemic. Now appears to be an ideal time to buy as continued expansion is expected and they can reach a massive audience in terms of consumers.
Free Report: Top EV Battery Stocks to Buy Now
Just-released report reveals 5 stocks to profit as millions of EV batteries are made. Elon Musk tweeted that lithium prices have gone to "insane levels," and they're likely to keep climbing. As a result, a handful of lithium battery stocks are set to skyrocket. Access this report to discover which battery stocks to buy and which to avoid.
Want the latest recommendations from Zacks Investment Research? Today, you can download 7 Best Stocks for the Next 30 Days. Click to get this free report
MercadoLibre, Inc. (MELI) : Free Stock Analysis Report
Li Auto Inc. Sponsored ADR (LI) : Free Stock Analysis Report
Amazon.com, Inc. (AMZN) : Free Stock Analysis Report
Alibaba Group Holding Limited (BABA) : Free Stock Analysis Report
To read this article on Zacks.com click here.
The views and opinions expressed herein are the views and opinions of the author and do not necessarily reflect those of Nasdaq, Inc.
[ad_2]

Source link