[ad_1]

Today's episode of Full Court Finance digs into the unusually quiet market after the first truly busy week of earnings season that featured results from Tesla and others. Wall Street might not remain calm with Microsoft, Meta, and Amazon all reporting during the week of April 24. The question now is should investors buy these resurgent mega-cap tech stocks heading into earnings, or wait?
Tesla's 10% fall on Thursday seemed like it could have sparked a bigger move, but the S&P 500 only managed to drop 0.6% after buyers came in late in the session. Prior to the tiny drop, the market remained nearly stagnant during the early part of the week as Wall Street simply sits on its hands, which is what it did Friday. 
The calmness amid the first busy week of earnings could mean that investors are far more focused on the next few inflation reports and what the Fed does. It is also possible that Wall Street is waiting for something exceedingly spooky or very bullish from a few key reports in order to make a move.
Thankfully, Microsoft, Meta, Amazon, and many other heavyweights all report next week and should help investors understand if the subdued trading will remain until the next Fed meeting on May 2 & 3 and the April CPI report on May 10.
It is worth constantly remembering that the Nasdaq and the S&P 500 have both moved roughly sideways over the last few months, while remaining well above both their 50-day and 200-day moving averages.
Investors now need to ask themselves if the worst is already priced into big tech.
Microsoft (MSFT) is set to report its Q3 FY23 results on Tuesday, April 25. MSFT has mounted a comeback off its lows, but it remains about 18% below its highs as investors assess how long its slowing growth will last. Microsoft is coming off five-straight years of booming sales and earnings growth, driven by cloud computing.
Image Source: Zacks Investment Research
MSFT's near-term outlook still calls for growth, followed by a big rebound in FY24 as it proves its diversified portfolio, from cloud to business software, is too mission-critical to the economy to be held down for too long. Microsoft is diving headfirst into generative AI and it is a cash cow with nearly $100 billion in cash and equivalents. MSFT, which lands a Zacks Rank #3 (Hold) right now, is up around 20% YTD and trades not too far off its five-year median at 27.5X forward 12-month earnings.
Meta Platforms, Inc. (META) reports its Q1 FY23 results on Wednesday, April 26. The parent company of Facebook, Instagram, and WhatsApp reaches 2.96 billion people daily and 3.74 billion monthly, which is something advertisers and marketers simply cannot ignore even though Apple's privacy changes have hurt the entire industry. Meta shares have rocketed over 130% since early November as it commits to cutting costs, profitably, and its core businesses instead of the metaverse.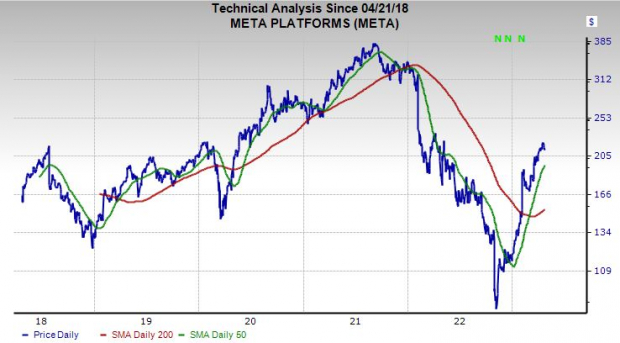 Image Source: Zacks Investment Research
Zacks estimates call for Meta's 2023 revenue to climb 5% and pop 11% in FY24 to $135 billion. Meanwhile, Meta's adjusted earnings are projected to jump 4% in FY23 and 21% FY24. Meta's surging earnings revisions help it land a Zacks Rank #1 (Strong Buy). Despite its 135% climb off its lows it still trades almost 45% beneath its peaks. And Meta is trading at discount to the Zacks Tech sector's 22.8X at 19.4X forward 12-month earnings.
Amazon (AMZN) reports its first quarter FY23 results on Thursday, April 27. Amazon's fall was almost as brutal as Meta's as the e-commerce and cloud giant got hammered on concerns about profitability and slowing growth. CEO Andy Jassy is in the midst of trying to tame rampant spending and cutting costs, while still investing in its own generative AI models and other key efforts. Amazon's growth is no doubt slowing, but it's still projected to post 8% sales growth in 2023 and 13% in 2024 and boost its bottom line by 90% and 60%, respectively.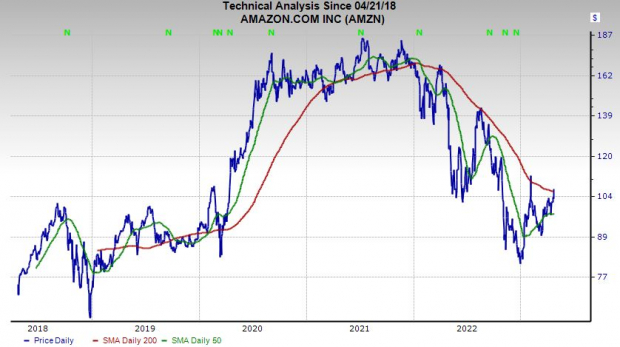 Image Source: Zacks Investment Research
Amazon lands a Zacks Rank #3 (Hold) right now and it trades roughly 40% below its highs and around where it was directly prior to the initial covid selloff. Its valuations levels are still far from cheap, but they should continue to improve as it focuses on running its business like a more stable firm and not a growth-at-all-costs upstart. AMZN just broke back above its 200-day moving average for just the second time this year.  
Zacks Names "Single Best Pick to Double"
From thousands of stocks, 5 Zacks experts each have chosen their favorite to skyrocket +100% or more in months to come. From those 5, Director of Research Sheraz Mian hand-picks one to have the most explosive upside of all.
It's a little-known chemical company that's up 65% over last year, yet still dirt cheap. With unrelenting demand, soaring 2022 earnings estimates, and $1.5 billion for repurchasing shares, retail investors could jump in at any time.
This company could rival or surpass other recent Zacks' Stocks Set to Double like Boston Beer Company which shot up +143.0% in little more than 9 months and NVIDIA which boomed +175.9% in one year.
Free: See Our Top Stock and 4 Runners Up >>
Want the latest recommendations from Zacks Investment Research? Today, you can download 7 Best Stocks for the Next 30 Days. Click to get this free report
Amazon.com, Inc. (AMZN) : Free Stock Analysis Report
Microsoft Corporation (MSFT) : Free Stock Analysis Report
Meta Platforms, Inc. (META) : Free Stock Analysis Report
To read this article on Zacks.com click here.
The views and opinions expressed herein are the views and opinions of the author and do not necessarily reflect those of Nasdaq, Inc.
[ad_2]

Source link