[ad_1]

Investors will have a scope on stocks that can show signs of growth this earnings season as inflationary concerns are still prevalent and expected to affect the bottom line of many companies.
With that being said, here are three top-rated Zacks stocks that have highlighted the earnings season so far.
Lamb Weston (LW)
After beating earnings expectations for the sixth consecutive quarter, frozen potato producer Lamb Weston continues to illustrate its dominance in the broader food industry and dawns a Zacks Rank #1 (Strong Buy).
Lamb Weston reported its fiscal third-quarter earnings earlier in the month and crushed EPS expectations by 46%. Lamb Weston's Q3 earnings were $1.43 per share compared to estimates of $0.98 a share. Third-quarter earnings were also up 96% year over year with EPS at $0.73 in Q3 2022.
After its stellar Q3 results, Lamb Weston's earnings estimate revisions have continued to trend higher. Lamb Weston's profits are still expanding from its pricing power as a leader in its space amid high inflation. Earnings are now forecasted to skyrocket 111% this year at $4.39 per share compared to EPS of $2.08 in 2022. Fiscal 2024 earnings are projected to rise another 11%.
Image Source: Zacks Investment Research
JP Morgan (JPM)
Appearing to be unphased by the recent hoopla in the broader financial sector, JP Morgan stock sports a Zacks Rank #2 (Buy) with the company topping its first-quarter earnings expectations by 20% last Friday. JP Morgan's Q1 EPS came in at $4.10, up 56% from $2.63 per share in the prior year quarter. 
Following the collapse of Silicon Valley Bank, larger banks like JP Morgan may very well be benefiting from higher inflows as clients look to move their funds out of smaller regional banks.
JP Morgan's earnings are now expected to jump 14% in fiscal 2023 at $13.76 per share compared to EPS of $12.09 in 2022. Fiscal 2024 earnings are expected to slightly dip by -1%. With that being said, earnings estimate revisions have continued to rise over the last week. Fiscal 2023 earnings estimates have now risen 7% over the last quarter with FY24 EPS estimates up 2%.


Image Source: Zacks Investment Research
Omnicom Group (OMC)
Also sporting a Zacks Rank #2 (Buy), adverting and marketing conglomerate Omnicom Group surpassed its first quarter bottom line expectations by 13% on Tuesday.
With its Q1 EPS rising 12% YoY at $1.56 per share Omnicom has been a highlight of this week's earnings lineup. Earnings estimate revisions had continued to trend higher for Omnicom leading up to its quarterly results and are likely to keep going up.   
Omnicom's growth has been steady over the last few years with earnings expected to be up 5% in FY23 and rise another 4% in FY24 at $7.60 per share. More impressive and astonishing is that Omnicom has now topped earnings expectations for 29 consecutive quarters.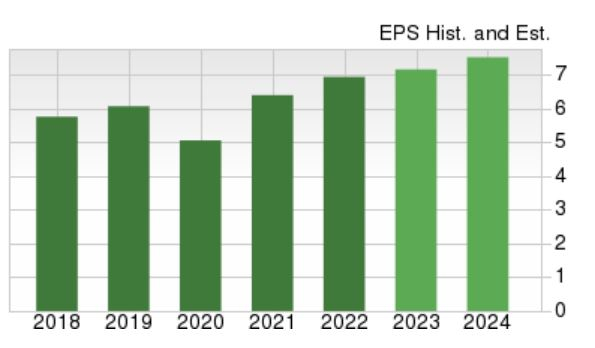 Image Source: Zacks Investment Research
Bottom Line
Following their strong quarterly results the rising earnings estimate revisions are a great sign that there could be a nice amount of upside in these top-rated Zacks stocks.
Furthermore, the year-over-year quarterly EPS growth is very impressive as many companies are still experiencing a slowdown from the linguring effects of high inflation. This is reason to believe that Lamb Weston, JP Morgan, and Omnicom Group could outperform as we progress through 2023.
4 Oil Stocks with Massive Upsides
Global demand for oil is through the roof… and oil producers are struggling to keep up. So even though oil prices are well off their recent highs, you can expect big profits from the companies that supply the world with "black gold." 
Zacks Investment Research has just released an urgent special report to help you bank on this trend. 
In Oil Market on Fire, you'll discover 4 unexpected oil and gas stocks positioned for big gains in the coming weeks and months. You don't want to miss these recommendations. 
Download your free report now to see them.
Want the latest recommendations from Zacks Investment Research? Today, you can download 7 Best Stocks for the Next 30 Days. Click to get this free report
JPMorgan Chase & Co. (JPM) : Free Stock Analysis Report
Omnicom Group Inc. (OMC) : Free Stock Analysis Report
Lamb Weston (LW) : Free Stock Analysis Report
To read this article on Zacks.com click here.
The views and opinions expressed herein are the views and opinions of the author and do not necessarily reflect those of Nasdaq, Inc.
[ad_2]

Source link