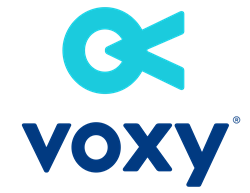 "Voxy and Fluentify share a commitment to driving tangible business impact through effective language training," said Jan Viviani, CEO, Voxy.

NEW YORK (PRWEB)
March 28, 2023
Voxy, an innovative training solution used successfully by hundreds of institutional clients around the world, today announced its acquisition of Fluentify, a major player in the long-distance language learning sector. This acquisition will combine Voxy's innovative English language training offering with Fluentify's multi-language curriculum to support companies globally, as a way to upskill their employees with a personalized and comprehensive language training solution.
"Voxy and Fluentify share a commitment to driving tangible business impact through effective language training," said Jan Viviani, CEO, Voxy. "By joining forces, Voxy will immediately deliver more value to its clients with a portfolio of languages beyond English, including Spanish, French, German, Italian, and Portuguese. This partnership will significantly strengthen our presence in Europe and pave the way for us to keep expanding our presence globally. We are excited to welcome Fluentify's talented team, and to the ways in which it will help our clients optimize their training programs."
With headquarters in the US, Voxy currently provides training content to more than four million learners at hundreds of organizations in over 150 countries, with 80 industry-focused courses designed to improve outcomes by breaking down language barriers. Voxy's comprehensive content library covers technical and soft skill courses and 26,000+ English lessons derived from renowned resources such as the AP, Bloomberg, the Telegraph, and more. The Voxy platform is used by many notable brands including AirFrance, Campari Group, Colgate/Palmolive, DirecTV and Kellogg's.Based in Italy, Fluentify is dedicated to providing a best-in-class live instruction experience, offering highly personalized, high-impact language training programs to corporations.
By joining the Voxy team, Fluentify will enhance its student experience and better serve the business objectives of its clients by offering a comprehensive, AI-driven elearning platform, which includes more than 26K lessons and over 100 industry-specific courses, along with 24/7 live group classes. Following the acquisition, Fluentify will be known publicly as Voxy Italy.
"We are thrilled to join forces with Voxy, because our companies are a perfect match in so many ways," said Giacomo Moiso, CEO, Fluentify. "Both teams care deeply about delivering tangible results through language fluency, and place a high value on personalized learning and high-quality live instruction, taking a people-first approach. Together, our offering will be comprehensive, and enable our continued growth in Europe and beyond."
About Voxy

Voxy is an innovative corporate training solution that has been used successfully by hundreds of corporate clients around the world to upskill their teams. Our AI-driven platform, accessed both on desktop and any mobile device, allows each learner to follow a fully personalized and highly engaging learning experience. Voxy's comprehensive content library covers more than 80 technical and soft skill courses and 26,000+ English lessons taken from renowned resources such as the AP, the Financial Times, Bloomberg, and more. Voxy courses are accompanied by certified teachers who offer round-the-clock, remote live instruction, empowering people to improve communication, foster collaboration, and grow global businesses. Our scalable solution, facilitated by our comprehensive admin reporting dashboard, results in an effortlessly inclusive program, designed to drive results for modern learners.Backed by leading investors in education and technology, Voxy was founded in New York City and has teams across the US, Brazil, Chile, Mexico, Spain, Ireland, Italy, UK, Malaysia and Thailand. For more info, please visit https://voxy.com/
About Fluentify

Fluentify is a leader in language training for businesses in Italy. Founded in 2013 by Giacomo Moiso, Claudio Bosco, and Matteo Avalle, it has offices in London, Turin, Milan, and Rome, as well as a commercial presence in Switzerland. The Company operates in the long-distance learning sector through its innovative online tutoring platform for English, French, Spanish, German, Portuguese and Italian. With a growing team and over 350 native-speaking tutors operating from around the world, Fluentify offers its services to more than 450 companies in Italy and abroad that have chosen the innovative approach offered by the company to improve their employees' language learning. Fluentify was also recognized in 2022 as the best company in Italy in the 10>49 employees category with the Best Workplaces award from Great Place to Work® Italy and is among the Italian companies awarded Best Workplaces Europe 2022.
To learn more: fluentify.com
Share article on social media or email: