Investors have recently been blasted with banking headlines, with a new development flashing across the screen weekly.  
Of course, the coverage initially started with the collapse of Silicon Valley Bank.
And just on March 19th, it was revealed that Switzerland's largest bank, UBS UBS, agreed to take over Credit Suisse CS. Valued at roughly $3.25 billion, the purchase price reflects a significant discount.
Now, First-Citizens BancShares FCNCA is in the spotlight. Why?
On Sunday, the FDIC made a big announcement –
"The Federal Deposit Insurance Corporation (FDIC) entered into a purchase and assumption agreement for all deposits and loans of Silicon Valley Bridge Bank, National Association, by First–Citizens Bank & Trust Company, Raleigh, North Carolina."
That's big news. And to little surprise, FCNCA shares roared in pre-market trading, opening up nearly 50% higher.
Following the surge, FCNCA shares are up more than 15% year-to-date, vaulting it ahead of the S&P 500's 5% gain.
Image Source: Zacks Investment Research
Starting today, the 17 former branches of SVB will operate under the banner of First-Citizens, with FCNCA assuming all deposits.
In response, other banking stocks, including Western Alliance WAL and First Republic Trust FRC, also found buyers in pre-market trading. Both stocks have struggled amid banking concerns, underperforming the general market by wide margins year-to-date.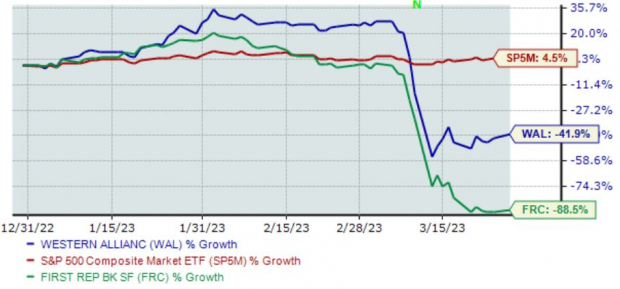 Image Source: Zacks Investment Research
With investors continuing to digest these developments and the volatility they bring, it's beneficial to consider companies seeing their outlooks drift higher, such as W.W. Grainger GWW.
As shown below, analysts have recently become bullish on the stock, pushing their bottom-line estimates higher across all timeframes.


Image Source: Zacks Investment Research
GWW has consistently exceeded quarterly estimates, registering six consecutive double beats. In its latest print, W.W. Grainger posted sales 1% above expectations and delivered a 2.5% EPS beat.


Image Source: Zacks Investment Research
In addition, the stock pays a dividend, currently yielding 1% annually. While the yield isn't on the high end, GWW's 6% five-year annualized dividend growth rate shows a commitment to increasingly rewarding its shareholders.


Image Source: Zacks Investment Research
Bottom Line
Investors can't catch a break from banking headlines, with fears of contagion following developments within Silicon Valley Bank and Credit Suisse taking the majority of focus as of late.
Now, investors were served a fresh headline over the weekend surrounding First-Citizens BancShares' FCNCA purchase of SVB.
For investors looking to steer clear from the volatility, targeting stocks with strong outlooks, such as W.W. Grainger GWW, could be a great consideration.
Just Released: Zacks Top 10 Stocks for 2023
In addition to the investment ideas discussed above, would you like to know about our 10 top picks for 2023?
From inception in 2012 through November, the Zacks Top 10 Stocks portfolio has tripled the market, gaining an impressive +884.5% versus the S&P 500's +287.4%. Our Director of Research has now combed through 4,000 companies covered by the Zacks Rank and handpicked the best 10 tickers to buy and hold in 2023. Don't miss your chance to still be among the first to get in on these just-released stocks.
Want the latest recommendations from Zacks Investment Research? Today, you can download 7 Best Stocks for the Next 30 Days. Click to get this free report
Credit Suisse Group (CS) : Free Stock Analysis Report
UBS Group AG (UBS) : Free Stock Analysis Report
W.W. Grainger, Inc. (GWW) : Free Stock Analysis Report
Western Alliance Bancorporation (WAL) : Free Stock Analysis Report
First Republic Bank (FRC) : Free Stock Analysis Report
First Citizens BancShares, Inc. (FCNCA) : Free Stock Analysis Report
To read this article on Zacks.com click here.
The views and opinions expressed herein are the views and opinions of the author and do not necessarily reflect those of Nasdaq, Inc.